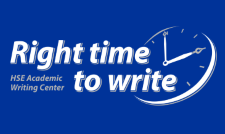 20 June 2022
The key to writing a good academic text is to be aware of the academic culture and expectations of your audience. And it poses a challenge if you belong to another culture and your background is different.
15 June 2022
Do you have ongoing research that you would like to publish in an international journal? Then the AWC online course "Basics of Writing an Empirical Research Article in English" is definitely for you! 
8 June 2022
Naturally, Russian speakers of English are bound to bring some of their mother tongue into English. And mistakes happen.