From a study to an article
We are pleased to announce successful completion of the online course "Basics of Writing an Empirical Research Article in English" guided by the instructor Natalia Smirnova.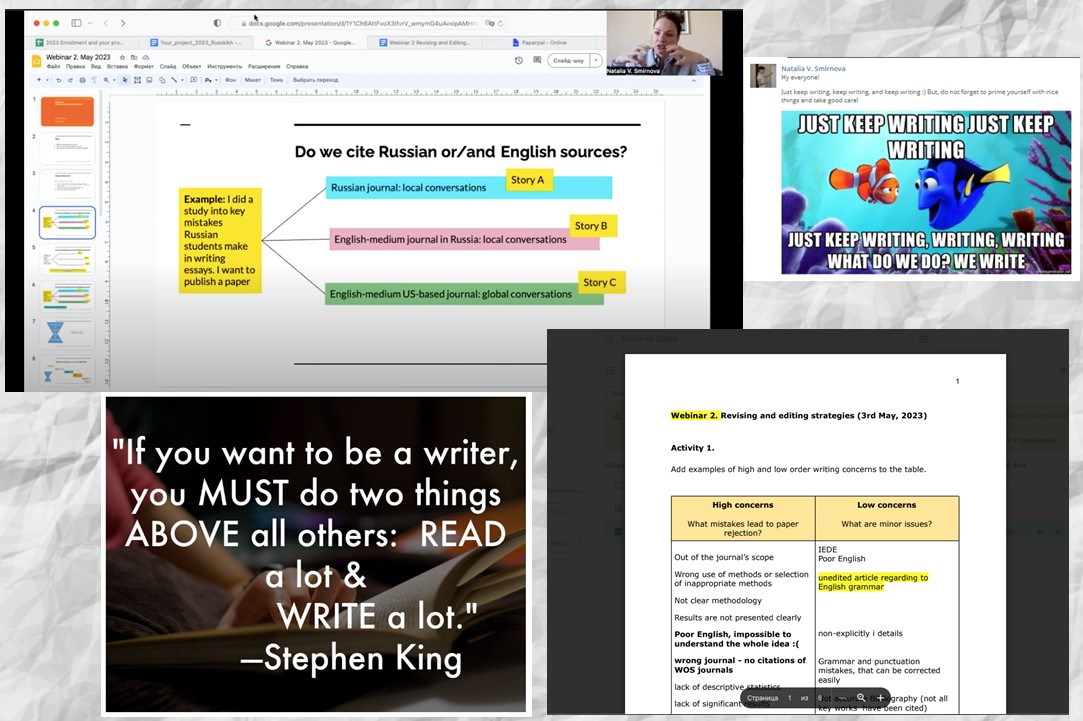 Participants expanded their knowledge of academic discourse, article structure, and international writing conventions. They prepared an article draft through writing, reviewing, and rewriting and received individual feedback from the instructor. The course has been on the AWC curriculum for several years, yet it remains highly popular among the HSE researchers due to its practicality and relevant content.
The participants shared their takeaways:
"A really informative and useful course. The most important benefits of this course were focusing on the problem gap, ABC statement, and the trainer's feedback. I had a great opportunity to see my draft from another point of view and understand the form of research discussion with the target audience."
"I would like to express my great gratitude to Natalia. The way she helped me look at my research, no one helped me. I was very impressed by the individual consultation. I understood the significance of my research and discovered a new theoretical basis for it. I have received the useful tools and knowledge that will help me write articles in both Russian and English."
"I think it's a perfect course for those who haven't started writing the article but already have the data / analysis done. You have a real chance to work intensively and write the article."
We thank Natalia and all the participants for the collaborative atmosphere! We will repeat the course next year, so if you have research data and would like to be inspired to write an article, don't miss it.
We have prepared both new and well-known events and formats for the next semester. Don't forget to check our website for announcements and register for our events.