Research Centers
Research centers for young scholars, or Labs, are structural units within HSE, research institutes, and departments. They include research faculty, lecturers and young researchers (undergraduate and PhD students), all of whom work in a specific field. The first center of this kind was created at HSE in 2005. Today, there are 24 such centers. They work in a wide circle of disciplines: economics, finance, law, IT, psychology, sociology, political science, etc.
WHAT LABS ARE CREATED FOR:
To provide opportunities for talented academia- oriented youth to get involved into research at university level at the earliest age.
To integrate research results into educational process.
LABS FEATURES:
Young researchers gain experience with largescale research projects; PhD and undergraduate students get more freedom and real responsibility at the same time. Working at a Lab helps them write a serious thesis, term paper, or dissertation. Lab employees not just do their research but teach students too: they work at the university's departments, prepare educational materials,and teach and give advice to their young colleagues too. This way, the colleagues manage to develop and apply their professional skills both as students and as researchers.
ACADEMIC GROWTH POINTS IN LABS LABS OFFER VARIOUS TYPES OF WORK DURING THE YEAR:
Research seminars that are now considered to be a kind of a «trademark» of HSE Labs. That's what most of their work is about. Lab members share preliminary results of their work, present final results, discuss future publications, organize discussions. The seminars arranged jointly by several Labs have become very popular.
Meeting invited experts – both practitioners and fellow researchers from other universities and organizations. Lab members get a chance to share the results of their research and to learn more about applied areas.
Scientific publications are one of the main criteria for evaluating Lab efficiency. Lab members work a lot to prepare and write scientific papers presenting the results of their research. This is how a high level of academic activity is maintained and how researchers get more chances to receive academic premiums (additional motivating bonuses). Anyone can take part in the events organized by research centers for young scholars, and attending such seminars and meetings often becomes the first step to working there. LABS MISSION Research centers for young scholars open new development opportunities both for their employees and the university.
BY OPENING RESEARCH CENTERS FOR YOUNG SCHOLARS:
the conditions to encourage lecturers and employees to carry out their research,
the specialized areas of research (through departmental Labs), as well as fundamental and interdisciplinary research (through universitylevel Labs);
the academic career institution.
LECTURERS AND LAB RESEARCHERS CAN:
skip the gap between teaching and research,
move to a new professional level in research: from the personal to the structural level,
share their experiences with their younger colleagues and form promising research groups in their spheres of interest.
UNDERGRADUATE AND PHD STUDENTS WHO AFFILIATE WITH LABS:
acquire research competences,
get an opportunity to engage into full-scale research at an early stage,
work under the supervision of the university's leading researchers.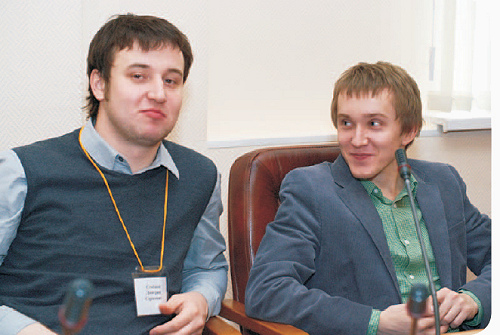 HSE RESEARCH CENTERS FOR YOUNG SCHOLARS
UNIVERSITY-LEVEL CENTERS
Lab of Decision Analysis and Choice (headed by Fuad Aleskerov)
Lab of Research in Business Communications (headed by Iosif Dzyaloshinsky)
Lab of Experimental and Behavioral Economics (headed by Alexis Belianin)
DEPARTMENT OF ECONOMICS
Lab of Labor Market Studies (headed by Sergey Roshchin)
Lab of Inflation Problems and Economic Growth Research (headed by Revold Entov)
Corporate Finance Center (headed by Irina Ivashkovskaya)
Lab of Macroeconomic Analysis (headed by Lev Lyubimov)
Lab of Financial Engineering and Risk Management (headed by Sergey Smirnov)
DEPARTMENT OF POLITICAL SCIENCE
Lab of Political Studies (headed by Valeria Kasamara)
DEPARTMENT OF PSYCHOLOGY
Lab of Social and Psychological Studies (headed by Nadezhda Lebedeva)
DEPARTMENT OF LAW
Lab of Theoretical Research in Law and State (headed by Vladimir Chetvernin)
Lab of Informational Law (headed by Irina Bogdanovskaya)
DEPARTMENT OF SOCIOLOGY
Lab for Studies in Economic Sociology (headed by Vadim Radaev)
DEPARTMENT OF MANAGEMENT
Lab for Network Organizational Forms (headed by Marina Sheresheva)
Institute for Theoretical and Historical Studies in the Humanities
Center for Fundamental Sociology (headed by Alexander Filippov)
INTERNATIONAL COLLEGE OF ECONOMICS AND FINANCE
International Lab for Financial Economics (headed by Carsten Sprenger)
CENTER FOR INSTITUTIONAL STUDIES
Lab of Institutional Analysis (headed by Maria Yudkevich)
Lab for Institutional Dynamics Analysis and Modeling (headed by Grigory Andrushchak)
Lab for Applied Analysis of Institutions and Social Capital (headed by Leonid Polishchuk)
INSTITUE OF DEMOGRAPHY
Lab for Socio-Demographic Policy (headed by Anatoly Vishnevsky)
HSE BRANCHES
Lab of Investment Analysis (Perm, headed by Andrey Emelyanov)
Lab of Quantitative Economic Analysis and Economic Modeling (Nizhny Novgorod, headed by Andrey
Silaev)
Lab for Theory and Practice of the Decision-Making Support Systems (Nizhny Novgorod, headed by
Eduard Babkin)
Lab for Sociology of Science and Education (Saint-Petersburg, headed by Daniil Aleksandrov)
ADDITIONAL INFORMATION:
CONTACT INFORMATION 
Academic Development Office:
academdevelopment@hse.ru
Have you spotted a typo?
Highlight it, click Ctrl+Enter and send us a message. Thank you for your help!
To be used only for spelling or punctuation mistakes.